The 8 Best Coffee Tables
Victorian England, feudal Japan, the Ottoman Empire, even the ancient Greeks all stake some claim as inventors of the coffee table. But one thing is certain — it is integral to figuring out your living space. A good coffee table is low enough to avoid obscuring TV screens, high enough for feet-propping and wide enough for dinner. Today, options ranges from verified pieces of art to examples that cost you less than a trip to the grocery store. This guide to the 8 best coffee tables covers the cheap, the design-forward, the plain, the weird and more.
BEST COFFEE TABLES
A coffee table is a crucial piece of furniture for your living room. It's the spot where you can rest your beverage while sitting on the sofa, show off your favorite decorative items or collectibles, and organize magazines, remote controls, and other lounge space necessities.
While most coffee tables are rectangular, you can find options in a variety of shapes and styles. That makes it easy to find one that fits your room's size, layout, and décor. Some coffee tables are more than decorative surfaces too. You can find models with extra storage to help you keep your living space neat and tidy.
But finding the right coffee table can be challenging. Our buying guide offers up all the necessary tips you need to sort through the options and choose the best coffee table for your home. If you prefer entirely stress-free shopping, we've also included some product recommendations above to help get you started.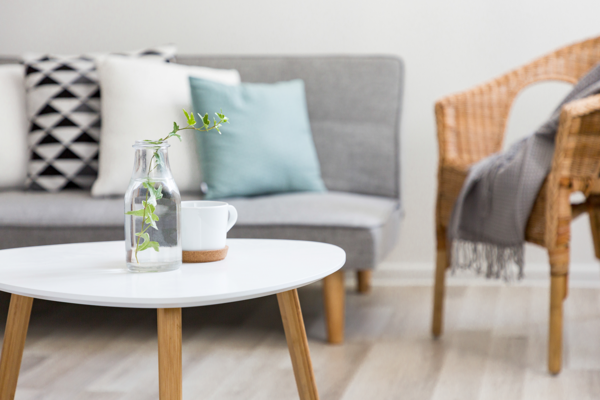 KEY CONSIDERATIONS
Size
Choosing the right size coffee table is key if you want it to fit in with your other furniture and décor. In general, most interior designers suggest opting for a table that's no longer than two-thirds the length of your sofaand nearly the same height as the seat (within 2 or 3 inches taller or shorter). However, you'll be fine if the coffee table is 16 to 18 inches shorter than the sofa on each end. That allows enough space to walk comfortably around it.
Shape
Traditional coffee tables are rectangular, but you can find options in a few different shapes.
Rectangular: These coffee tables offer a classic look and pair well with most standard sofas. They work well with longer couches too. When in doubt, a rectangular coffee table is usually your best bet.
Square: These coffee tables generally look best if your room's layout includes a loveseat and sofa combination or an L-shaped sectional. You can also place two square coffee tables side by side with a standard sofa.
Round: These coffee tables work well in a smaller room. One can also serve as a striking focal point in larger rooms, but you need to choose a table with a large enough circumference to fit the space. Round tables don't offer as much surface area as rectangular ones, so you might need extra end tables by the couch. You can also place two round coffee tables side by side as you would with square tables.
Oval: An oval table can serve as an alternative to a rectangular coffee table to complement a standard sofa. They're longer than round tables, so they offer more surface area but provide a softer look than a rectangular table's sharp angles.