The 9 Best Drill Presses – Full Guide
The Drill Press Reviews on this page are designed to make the process of researching and buying this tool as easy as possible. We have assembled all the information needed to help you find the best drill press for your specific needs.
Whether you are looking for the best benchtop drill press or a floor standing model, for woodworking or metalwork, our review pages are designed to be a comprehensive guide with all the information you need to make the right choice.
Power, accuracy, reliability and consumer feedback are some of the factors that were taken into account when we rated the top drill presses. This handy power tool is a must for any serious woodworker and along with a table saw, considered to be the most important tools in the wood workshop.
Best Drill Press For Woodworking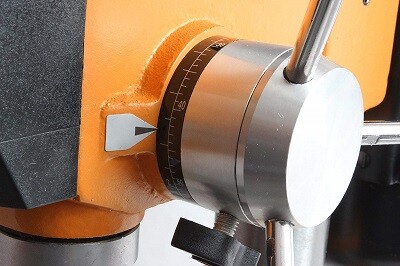 Wood is softer than metal, therefore, accuracy is the most important factor for this kind of drilling. As a result, any inaccuracy or distortion from the drill press can cause damage to the workpiece. Some of the features you need to look out for when looking for a drill press for woodworking is drill tip run out and depth stop functionality for accuracy. The preciseness of the laser guiding system is another important feature and can help with accurate drilling into wood.
As Ive said before, woodworking is about accuracy. Therefore you have to use accurate tools to get the best results. This is even more essential when it comes to drilling and cutting. For more information on cutting tools for woodworking, read our page on the best jigsaw.
Here is a list of recommended drill presses for woodworking:
Jet JDP-17 3/4 hp drill press
Powermatic PM 2800 B 18 Inch Radial Drill
ShopFox W1668 Benchtop Drill Press
Jet 716200 JDP Tabletop model
Wen 15 Inch drill machine (4225 – floor model)
Best Drill Press For Metal
You need a powerful machine to get the best results when drilling into metal. Plenty of horsepower and enough speed settings will produce the best results. This will allow you to effectively drill through most metals. Although power is the most important factor here, accuracy still plays a vital role in getting the best results. To get the best drill press for metal you need to pay attention to the following: horsepower of the machine, speed settings and run out measurements.
Factors You Have To Consider When Reading The Reviews
Most serious do-it-yourself enthusiasts and woodworkers will tell you that a drill press is a must-have. A drill press is a very handy tool to have in the tool shed, workshop or garage. It is similar to a handheld drill but provides more accuracy and power. There are many different types of drill presses available on the market today. To help you find the right product for your needs, we have listed some of the factors you should consider in our drill press reviews.
What Type Of Drill Press? 
First, you need to decide whether you need a floor-standing or bench-top drill press. If you are going to use it for large projects and have the floor space available, the floor model will suit you better. A bench-top is compact, lighter than the floor model and will handle most DIY jobs with ease. You can find all this information in our drill press reviews.
Power 
The power a drill press produce is measured in Horsepower(Hp). This is a very important factor when choosing the right drill press for your needs. If you are going to use it for light DIY work only, you probably just need a 1/3 hp-1/2 hp motor. Bigger jobs will require a bigger motor.
Size 
When shopping for a tool like this you will note that they are listed as 8 inches,10 inches,12 inches and so on. This is the size of the machine and determines the size of the object you can work with. The size of a drill press is actually measured by its "throat capacity" This is the distance between the column and the center of the chuck. A portable drill press with a 5-inch throat capacity will drill a hole in the center of a 10-inch diameter disc and is called a 10-inch drill press. In other words, the size of the drill press is the distance between the center of the chuck and the column, times two. Make sure the model you buy is big enough for your needs.
Speed 
When working with wood a high spindle speed is required, while working with metal requires a lower spindle speed. If you are going to be working with both materials, make sure the speed can be adjusted on the product you buy. Most drill presses these days have 5 or more speed settings.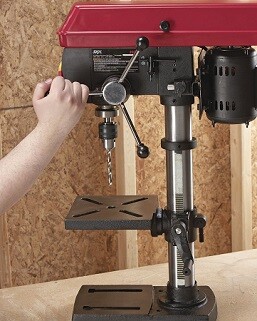 Spindle Travel 
The spindle travel is how far the spindle will go down in one sweep. This will also determine the depth of the hole that can be drilled with one go. A good tip is to look for a model with an adjustable depth stop. This will help to ensure that you drill holes to a precise depth every time.
Work Table
It is important to be able to adjust the work table on a drill press. Make sure the work table can adjust up and down and tilt to the sides. This is a necessity when drilling at various angles.
Accuracy 
One of the benefits of a drill press is that it allows you to drill accurately and precise. Some models take accuracy to the next level with laser guiding systems. This is a great feature and makes lining up the holes very easy.
Warranty 
Never buy a power tool without a warranty. Make sure you get at least a year warranty on your purchase because you may need it.   By using the information in this article and reading our drill press reviews,  you will be able to choose a drill press that suits your specific needs.